Building the Ashcroft collection
Lord Ashcroft began building the collection in 1986 when he bought his first VC at an auction held by Sotheby's in London.
It is a matter of public record that on 3 July 1986 he paid £29,000 plus buyer's premium and VAT for the VC awarded to Acting Leading Seaman James Magennis shortly after the end of the Second World War.
By doing so, Lord Ashcroft fulfilled an ambition that he had held since his early 20s: to one day buy a VC if his financial circumstances permitted it. His interest in bravery, however, went back much further - to when he was about 12 years old and a boarder at Norwich School in Norfolk.
As a schoolboy, he began watching films and reading books about the Second World War but it was always the concept of gallantry - rather than the other aspects of war - that captured his imagination. He was 13 or 14 when he first heard of something called the VC. At the time, he knew little more about it than that it was a bravery award and that it had been created by Queen Victoria.
Part of Lord Ashcroft's general interest in bravery stemmed from his father. Eric Ashcroft, though a modest man, had eventually been persuaded by his young son to talk about his war-time exploits.
As a young Lieutenant, he had taken part in the D-Day landings on 6 June 1944 as part of the British 3rd Infantry Division's assault on German-occupied France. He and his fellow officers had been told to expect 75 per cent casualties - dead and wounded - and as they landed on Sword Beach they realised the scale of their mission.
Lieutenant Ashcroft's commanding officer was shot dead at his side and he received shrapnel injuries, though he fought on until ordered from the battlefield. Learning about his father's courage led to Lord Ashcroft having an even greater interest in the concept of bravery.
When Lord Ashcroft bought his first VC in 1986, he intended the purchase to be a one-off. However, after taking possession of the medal, he realised that collecting VCs would become a lifetime's passion.
Lord Ashcroft and other VC collectors find it hard to express to those who have no interest in medals quite what it means to own one. In short, however, he values each VC because it is the tangible relic of an individual's service and bravery - a wonderful tribute to someone who has risked his life for his comrades, his monarch or whatever motivates him in the heat of battle.
Some years ago, as the collection grew and grew, a trust was set up to care for and protect the medals. Today there are more than 140s VCs in the collection and most are accompanied by other service medals awarded to the recipient along with a host of related memorabilia.
The trust's collection of VCs is easily the largest in the world. It spans the three services - Army, Royal Navy and Royal Air Force (RAF). The collection also spans 128 years from acts of bravery at the start of the Crimean War in 1854 to an act of courage during the Falklands War in 1982.

Lieutenant John Chard won the Victoria Cross for his role in the defence of Rorke's Drift in 1879.
Perhaps inevitably, some medals mean even more to Lord Ashcroft than others. He particularly treasures his five VCs that were won by the early fighter aces during the First World War. He also greatly values two VCs - from the total of 11 - that were awarded after Rorke's Drift, when in 1879 a force of approximately 150 men heroically defended the mission station against up to 4,000 Zulus.
The trust's collection is worth several millions of pounds and it has been built up patiently, responsibly and sensitively. The trust adheres to a strict set of rules: it does not 'ambulance chase' or go in search of medals that are not on the market. This means that the only VCs that the trust buys are ones that the recipients - or later owners - wanted to sell. The medals have been bought at auctions, through dealers or through private agreement.
The trust sometimes decides not to buy medals that come on the market because it considers the asking price is too high. It is advised by Michael Naxton, Lord Ashcroft's medals' consultant, who was the auctioneer when Lord Ashcroft bought his first VC in 1986.
The trust has ensured that many VCs which would have gone abroad to foreign bidders have remained in Britain. Furthermore, the trust has decided that its collection of VCs will go on public display in London.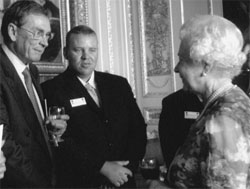 Lord Ashcroft with the Queen at Windsor Castle during the VC 150th Anniversary celebrations in 2006.
Lord Ashcroft is delighted that before too long members of the public will have the opportunity to enjoy the VCs in the collection. He is also proud to have played a part in assembling this collection.
Over the coming years, the trust hopes to continue to build the collection. No system of rewarding bravery is infallible: unlike athletic achievement, courage cannot be measured by a stopwatch or a tape measure.
Yet Lord Ashcroft believes that the VC, as it has developed over the years, is as good a system of evaluating bravery as anyone has devised to date. As the medal celebrates its 150th anniversary, he hopes the existence of the VC will be treasured and the achievements of its recipients will be highlighted.